Online Registration Guide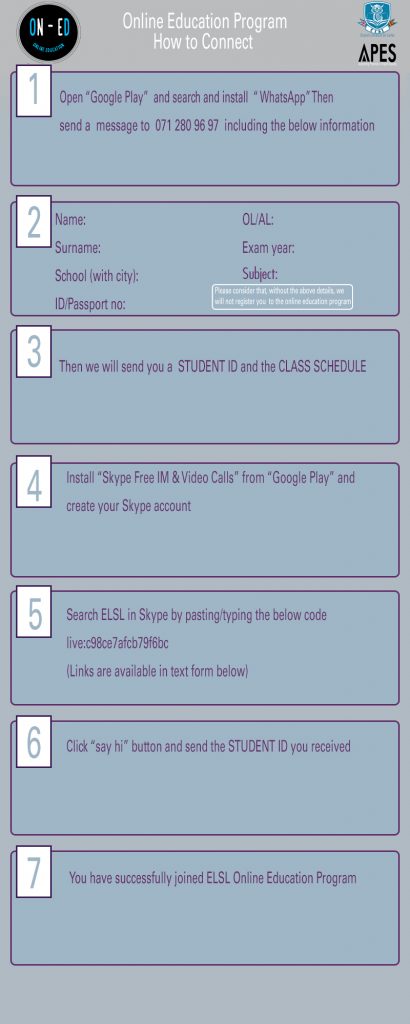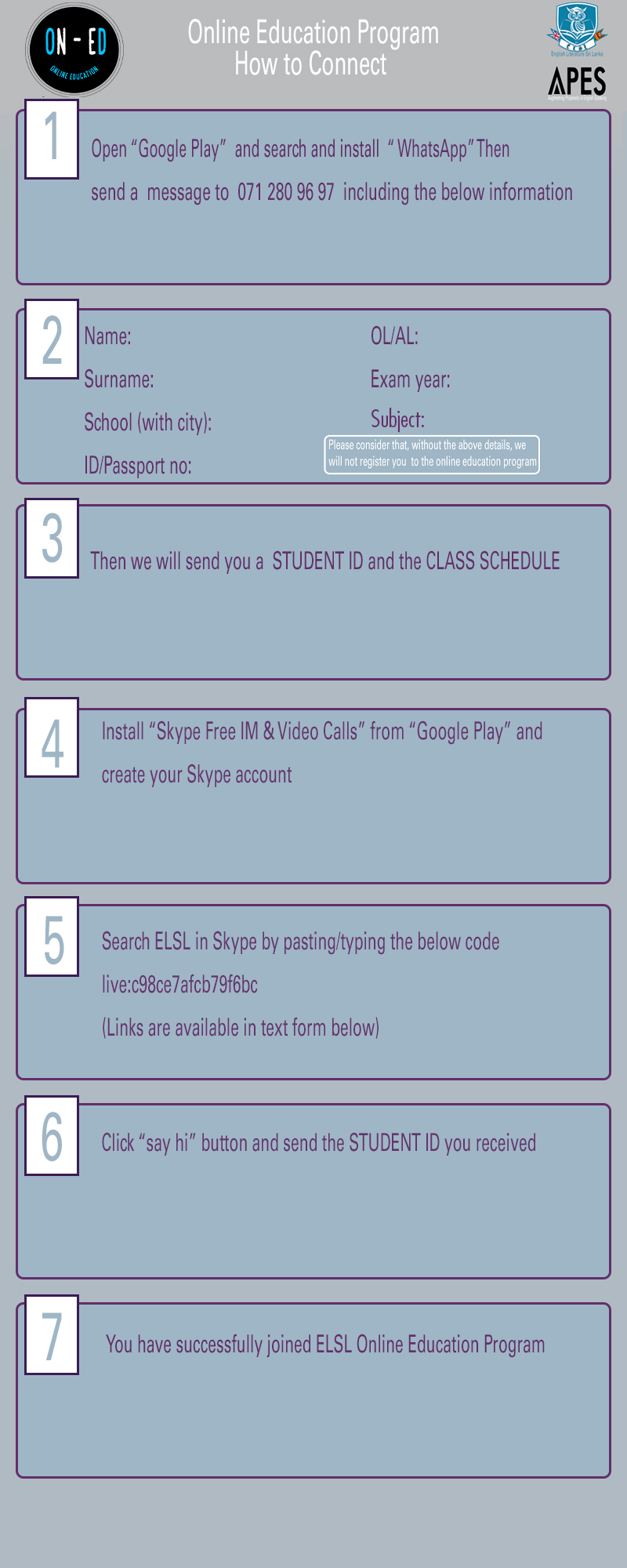 About the online education program
ON-ED-SL is a project launched by ELSL educational institute to provide standard and reliable English medium education to those who are unable to continue the educational endeavors due to the COVID-19 crisis.
All instructors who support to educate the students, are qualified, and professional teachers who work for government/semi-government/international schools in the country.
Therefore, we solely take the full responsibility of the education of your child without hesitation
ON-ED-SL යනු COVID-19 අර්බුදය හේතුවෙන් අධ්‍යාපන කටයුතු කරගෙන යාමට නොහැකි සිසුන් ට, සම්මත හා විශ්වාසදායක ඉංග්‍රීසි මාධ්‍යය අධ්‍යාපනයක් ලබා දීම සඳහා ELSL අධ්‍යාපන ආයතනය විසින් දියත් කරන ලද ව්‍යාපෘතියකි.
සිසුන්ගේ අධ්‍යාපන කටයුතු සඳහා සහාය වන සියලුම උපදේශකවරුන්, සුදුසුකම් ලත්, සහ රජයේ / අර්ධ රාජ්‍ය / ජාත්‍යන්තර පාසල්වල සේවය කරන වෘත්තීය ගුරුවරුන් වේ.
එමනිසා, අපි ඔබේ දරුවාගේ අධ්‍යාපනයේ සම්පූර්ණ වගකීම පැකිලීමකින් තොරව භාර ගනිමු
ON-ED-SL என்பது COVID-19 நெருக்கடியின் மூலம் கல்வியைத் தொடர முடியாதவர்களுக்கு நிலையான மற்றும் நம்பகமான ஆங்கில நடுத்தரக் கல்வியை வழங்க ELSL நிறுவனத்தால் தொடங்கப்பட்ட ஒரு திட்டமாகும்.
அனைத்து பயிற்றுனர்களும் தகுதி வாய்ந்த மற்றும் தொழில்முறை ஆசிரியர்கள், நாட்டின் அரசு / அரை அரசு / சர்வதேச பள்ளிகளில் பணியாற்றி மாணவர்களின் கல்வியை ஆதரிக்கின்றனர்.
எனவே, உங்கள் குழந்தையின் கல்வியின் முழுப் பொறுப்பையும் தயக்கமின்றி நாங்கள் ஏற்றுக்கொள்கிறோம்
Subjects conducted Grade 6 - 7 - 8 - 9 - G.C.E O/L
Subjects conducted Grade G.C.E A/L 2020/2021/2022